If you love watching sports and have Dish TV, you'll want to know how to get ESPN Plus. No matter if you're crazy about basketball, soccer, or football, you can enjoy unlimited content on dish network ESPN Plus. Find out what channel is ESPN Plus on Dish.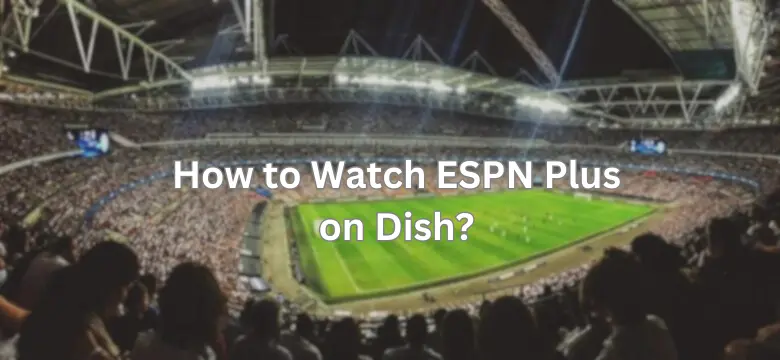 What is ESPN Plus?
ESPN Plus/ESPN+ is a service provided by ESPN which is a popular sports network owned by Disney. It's similar to a sports fan club. You can gain access to a huge variety of exciting benefits with an ESPN Plus subscription. You can watch live sports activities such as boxing, MMA, collegiate sports, soccer, tennis, and golf. Some of these are not available anywhere else.
But that isn't all! ESPN+ also features original programs and documentaries. With "30 for 30," you can delve into stories, gain expert insights with "Detail," and have fun with "Peyton's Places." No worries if you miss a game or want to revisit something. ESPN+ allows you to watch previous events whenever you want. All of this is available to view on your phone, tablet, smart TV, or computer.
Dish Network
Dish Network is a satellite television company based in the United States that provides a wide range of programs such as sports, news, entertainment, and movies. It also has a number of options, including DVR, On Demand, and streaming. Most of the Dish TV packages come with a 3-year price guarantee.
Here are some of DISH Network's important features:
There are numerous channels to choose from, including local networks, sports channels, news channels, entertainment channels, and movie channels.
DVR service with up to 200 hours of storage.
You can watch DISH programming on your smartphone, tablet, or computer by using a streaming service.
Most packages come with a three-year price guarantee.
What Channel Is ESPN Plus on Dish?
Dish Network offers native access to the individual channels, allowing you to watch all of your favorite sports channels with a Dish Network subscription. To make things easier for you, we've included the channel numbers for ESPN Plus content on Dish:
Streaming Service: Dish Network
ESPN Channel: Tune in to Channel 140
ESPN 2 Channel: Located on Channel 143
ESPNU Channel: Found on Channel 141
ESPN Deportes Channel: Accessible via Channel 854
ESPN News Channel: Airing on Channel 142
ESPN Alternate Channel: Available on Channel 144
Read Also: How to Get ESPN Plus on Youtube TV?
How to Watch ESPN Plus Without Cable?
You can still access ESPN Plus content through other means, particularly streaming devices or apps. Follow these steps for watching ESPN Plus on Dish Network:
1- Subscribe to ESPN Plus
Make sure you have a valid ESPN Plus membership. ESPN Plus can be subscribed to via its official website or app.
2- Use a Compliant Device
A compliant streaming device or a smart TV that supports the ESPN app is required. Roku, Amazon Fire TV, Apple TV, and more popular options are available. Check to see if your Dish Network configuration contains one of these or a comparable device.
3- Install the ESPN App
Download and install the ESPN app from the app shop or channel store on your compatible device.
4- Log in
Open the ESPN app and sign in with your ESPN Plus credentials (the ones you used to subscribe).
5- Access ESPN Plus Material
You should be able to access ESPN+ on Dish Network once you've checked in. Now you can browse through the available sporting events, shows, and documentaries.
6- Have Fun Streaming
Choose your favorite programs and start watching Dish Network ESPN setup.
Pros and Cons of ESPN+
Here are some advantages and disadvantages of using ESPN+ with Dish Network:
Pros
Expanded Sports Content
ESPN+ provides a wide choice of live sports events, including UFC fights, college sports, soccer, and more. Subscribing to ESPN+ in conjunction with Dish Network can expand your sports viewing options.
Exclusive Content
ESPN+ includes exclusive programming, documentaries, and commentary, delivering additional sports-related content not available on normal ESPN channels.
Flexibility
ESPN+ is available on a variety of platforms, allowing you to view sports content on smartphones, tablets, smart TVs, and laptops, giving you the freedom to watch from anywhere.
Archive Access
With ESPN+, you can watch archival sporting events, which is useful if you miss a game or want to replay a specific contest.
Enhanced Viewing Experience
Some ESPN+ sporting events provide different camera views, statistics, and commentary options, creating a more immersive experience.
Cons
Separate Subscription Required
ESPN+ requires a separate subscription, which means an additional monthly or annual expense on top of your Dish Network subscription.
Internet Connectivity
Internet connectivity is required to view ESPN+ content. If your internet service is interrupted, your watching experience may suffer.
Regional Restrictions
Some sports events and material on ESPN+ may be subject to regional restrictions or blackouts, limiting access to specific viewers based on their location.
Limited Integration
While you can view ESPN+ content on a variety of devices, it may not be as neatly integrated into your Dish Network channel selection as traditional channels.
Additional Cost Consideration
If you're seeking more sports material, the cost of adding ESPN+ to your entertainment lineup should be included in your overall entertainment budget.
Streaming Device
To watch ESPN+ on your TV, you'll also need a compatible streaming device.
8 Popular Shows to Watch on ESPN+
ESPN has a wide variety of sports programs that are a must-see for sports fans. Here are some popular shows noted for their high-quality content that you can watch on ESPN+ on Dish Network:
1- Around the Horn
A Vigorous Debate and Discussion between Competitive Sports Writers.
2. College GameDay (basketball)
A weekly college football broadcast that focuses on the week's Saturday Primetime matchup.
3. College GameDay (football)
A weekly college football preview show that airs live from a major college football game site.
4. Get Up
A daily morning show that discusses the day's main sports stories and recaps the previous night's results.
5. First Take
First Take is a regular morning chat show hosted by famous sports experts.
6. E60
An investigative news magazine program that covers both domestic and international sports news.
7. Outside the Lines 
A chat show that discusses important sports problems both on and off the field.
8. Monday Night Countdown 
A weekly show that airs on Monday evenings throughout the NFL season and provides a preview of the following Monday night football game.
Read Also: What Channel Number is ESPN+ on Spectrum?
FAQ's
How do I get ESPN Plus on my DISH TV?
1. Make sure you have a smart TV or streaming device (such as Roku, Amazon Fire TV, Apple TV, or a gaming console like Xbox or PlayStation) connected to your DISH TV.
2. Ensure that your smart TV or streaming device is connected to the internet. You can usually do this through Wi-Fi or an Ethernet cable.
3. Depending on your device, navigate to the app store or app marketplace. This is where you will download the ESPN+ app.
4. Use the search feature to find the ESPN+ app. Once you locate it, select and install it.
4. After the installation is complete, launch the ESPN+ app on your smart TV or streaming device.
5. If you already have an ESPN+ subscription, log in with your credentials. If not, you can sign up for a subscription through the app.
6. Once you're logged in, you can access ESPN+ content, including live sports events, exclusive shows, and more.
Can you get ESPN app on DISH?
Yes, ESPN Plus is available on Dish Network. You need to subscribe to Dish Network packages to experience live streaming of ESPN Plus.
What devices are supported by ESPN+?
ESPN+ is supported by a variety of devices some of which are listed below:
1. Amazon Fire TV devices
2. Apple TV
3. Google Chromecast
4. Android TV
5. Xbox
6. PlayStation 4
7. Android and ios devices
8. Roku devices
9. Web Browser
Conclusion
ESPN has a broad and engaging roster of sports shows that cater to sports fans' interests. From heated debates on "Around the Horn" to in-depth analysis on "E60," ESPN gives you a huge range of content that keeps viewers engaged and educated. Whether it's college football previews on "Get Up," daily morning debates on "Get Up," or sports problems highlighted on "Outside the Lines," there's something for every sports fan.
Read Also: