Maybe you're moving next month and getting essentials like WiFi squared away. Or perhaps the big day is tomorrow, and in the hectic process of getting everything else ready, you just realized you haven't transferred your internet service to the new house yet. 
Either way, you're not alone in wanting WiFi up and running at your new place as quickly as possible, and we can show you how to do it. Ahead, we'll take you through the whole process of how to transfer your internet service when moving, from figuring out which internet service providers (ISPs) are available in your area to getting your devices hooked up.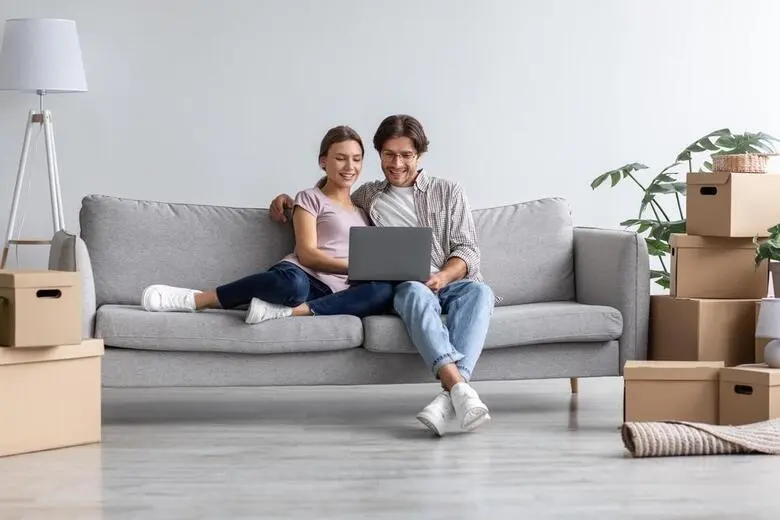 Source: Prostock-studio/Shutterstock
Seven Steps to Move Your WiFi to Another House
1. Find out which service providers are available at your new address.
If you like your current ISP and want to keep using them, contact them first and ask whether their service is available at your new address. If it is, they can help you transfer your service quickly and easily, including scheduling a technician's visit.
Sometimes, your old ISP won't be available at your new address, or you might decide to switch providers. In that case, you'll want to do a little research by visiting an ISP comparison site, which is pretty straightforward to use. Simply enter your new address, and the site will show you a list of available ISPs with price and speed estimates.
2. Evaluate the available service packages.
If you're keeping your ISP, you should be able to transfer the same package to your new home. But if you're choosing a new ISP, you'll want to evaluate their available service packages. Consider the following factors:
Connection Type: Cable and digital subscriber line (DSL) internet are widely available, but upgrading to fiber is definitely worth it if it's available in your area.
Speed/Bandwidth: A high-performance package is highly recommended if you have several devices and/or use your internet for gaming. If your needs are more modest, you can save money by going with a lower-tier package.
Bundling: Many ISPs offer the option to bundle landline phone and/or cable TV service with your internet, potentially saving you money.
Contracts: Read all associated contracts carefully before signing (yes, this means the fine print). Hidden fees and multi-year lock-ins are common, especially if you're bundling multiple services.
3. Schedule the service change. 
Once you've chosen your service package, contact your ISP to schedule a time when their technician can come to your home. For a new installation, someone in your household will probably need to be at home to let the technician in. If the ISP previously installed a connection for a different owner, they might be able to activate it from the outside or even do it remotely so long as your router and modem are compatible.
4. Make sure you've got a compatible router and modem.
If you're keeping your current ISP's service, the modem and router you have right now should work at your new home. For those switching to a new ISP, contact your new provider to learn about their options for renting a router and/or modem from them.
You'll also have the option to use your own router and modem. If you go this route, make sure to verify that your new ISP supports the router and modem, and be aware that your support options from your ISP may be limited.
Finally, if you're using fiber internet service, remember that you'll need an optical network terminal (ONT) rather than a modem, and you'll have to use the one provided by your ISP. If you have fiber at your old address, don't bring your existing ONT with you — your provider will install one at your new place.
Source: tong patong/Shutterstock
5. If you have to wait, use hotspots or public WiFi.
If your internet connection won't be available for a few days, you have some options for basic WiFi in the meantime. Most phones and tablets have a personal hotspot option that allows you to connect devices like a laptop to the internet via the phone or tablet's cellular data. This can consume data quickly, so you'll want to limit the amount you use it if you have a limited data plan.
For those without the option of a hotspot, you'll need to find a public WiFi network. These are often available in coffee shops, coworking spaces, restaurants, and other places where people bring their devices to work. However, be aware of the potential security hazards of public WiFi networks, and think twice about accessing sensitive information like bank accounts while you're connected.
6. Allow the technician to complete the installation, then get your modem and router set up.
A typical DSL or cable installation can take as little as an hour or two, while a fiber installation may take three to four hours or more. If your ISP already has infrastructure at your new address, the process might be faster.
Once the technician has completed the installation, they'll help you set up your modem and router. They'll create a WiFi network, and you can change the name and password at your convenience. Before the installer leaves, they should perform an internet speed test to confirm that your speeds align with your service package.
7. Return your old equipment (if you're changing ISPs).
If you're switching to a new ISP, remember to return your modem and/or router if you leased them from your previous provider. Make sure to return any other components that came with it, like power cords and ethernet cables, to avoid a charge from the ISP.
Most providers will help you return their equipment free by mail by printing off a prepaid shipping label or using a QR code. If your ISP has a location near you, you might also be able to return your equipment there.
Source: fizkes/Shutterstock
Now you're all moved in at your new home, with fast WiFi ready to go. Whether you immediately want to start ordering furniture and decor, or you're just ready to kick back and stream a movie, you're connected to the world once again.